The next membership meeting is scheduled for May24 at 7 pm at North Point Church.
There is a first Saturday parking lot exchange scheduled for Saturday, June 4.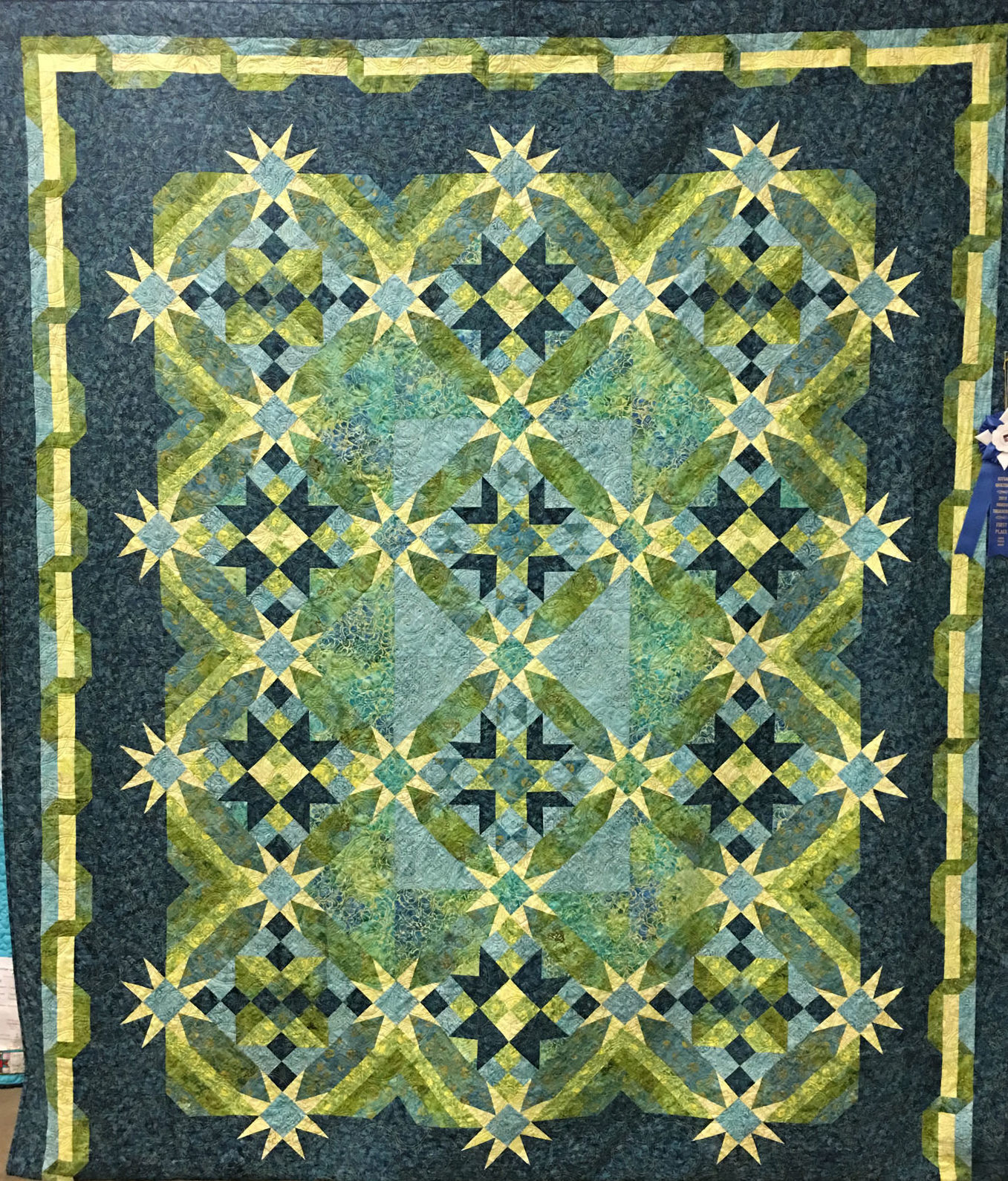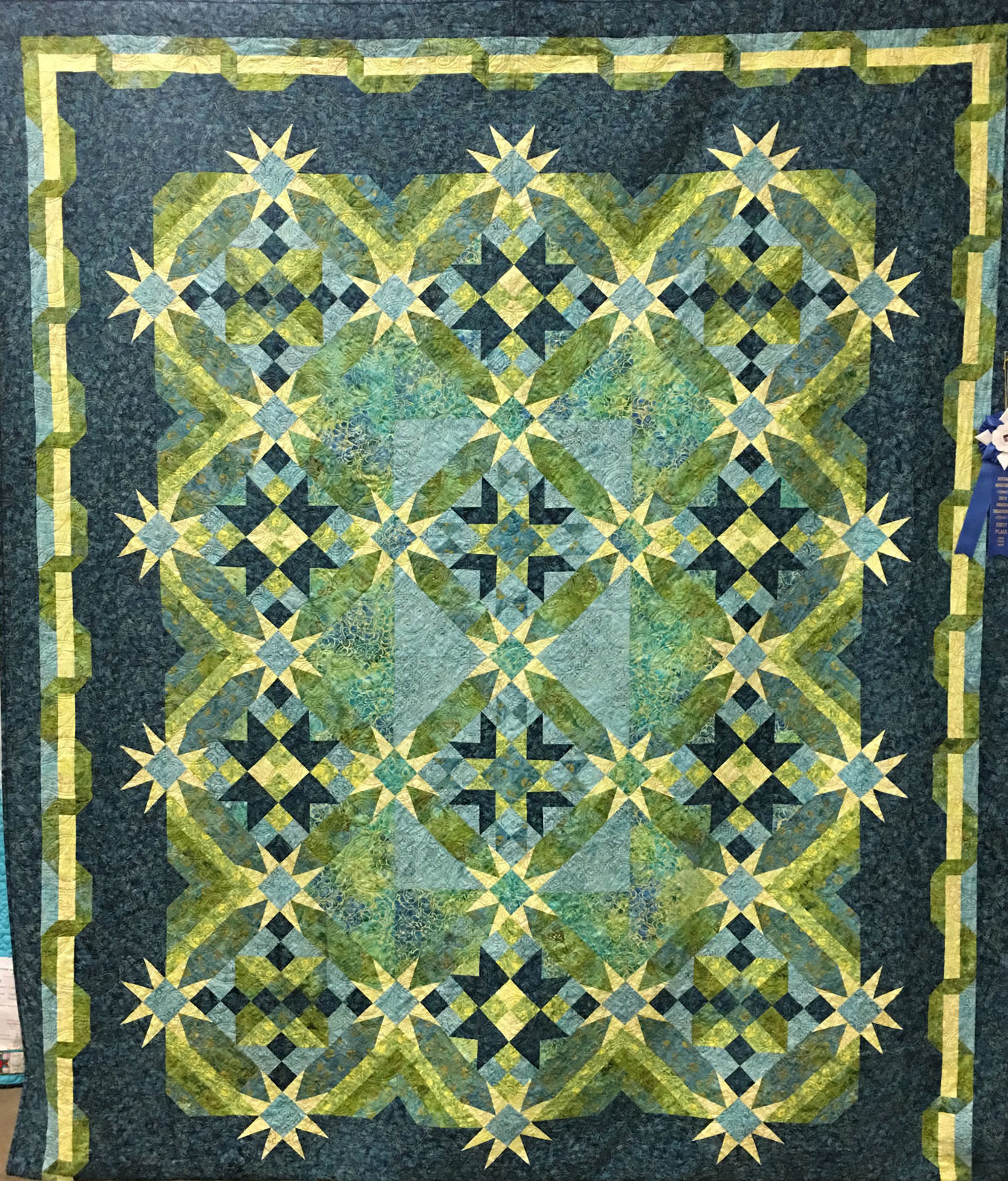 Welcome!
The Kitsap Quilters Guild is a vibrant group dedicated to the art of quilting.
If you want to be inspired, get involved, learn, share and meet new friends, join the Kitsap Quilters today!
216 "Evening Sky" by JoAnn Demmert, quilted by Shelly Nolte, 1st Place Large Group Quilt, 2018 Kitsap Quilt Show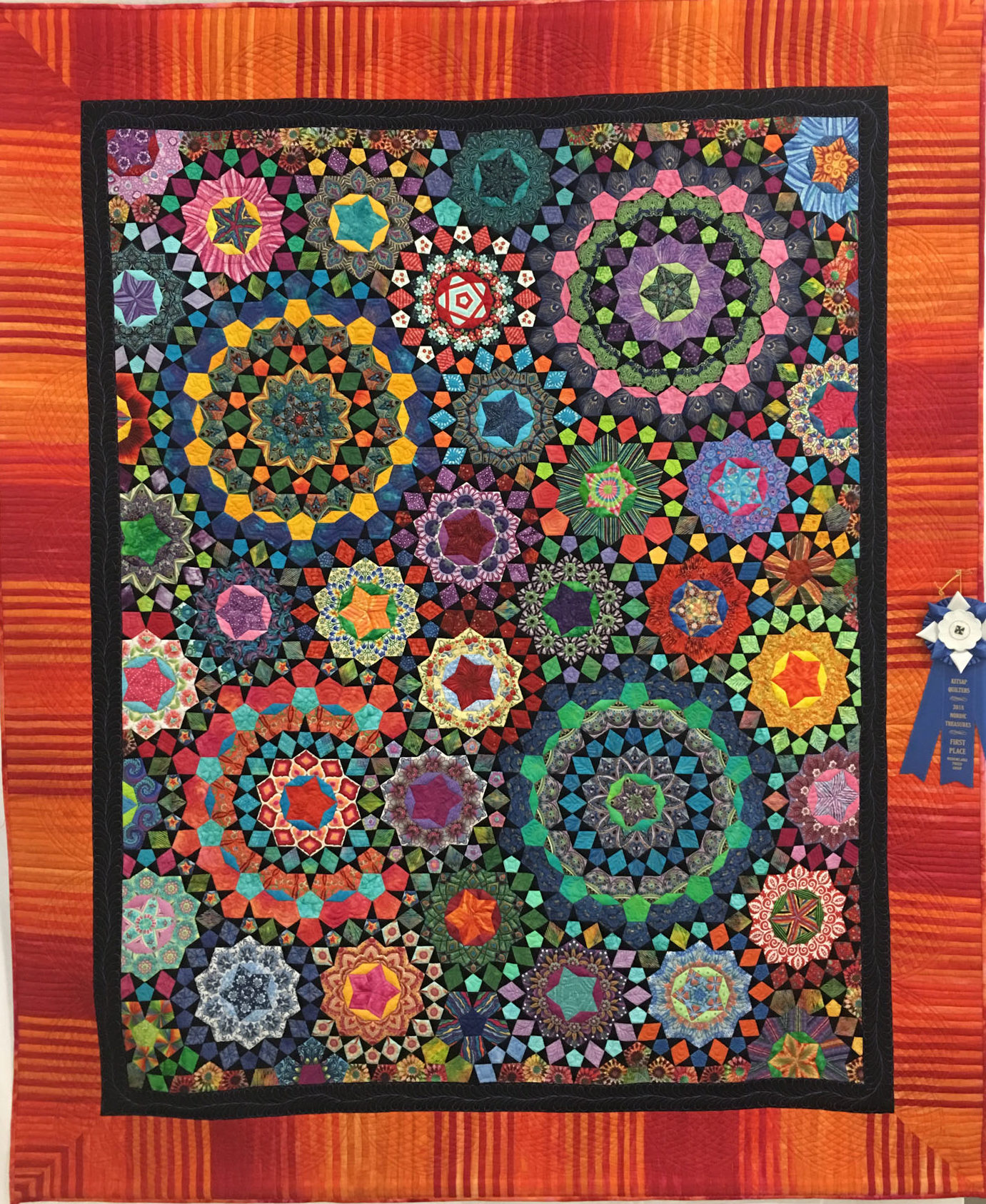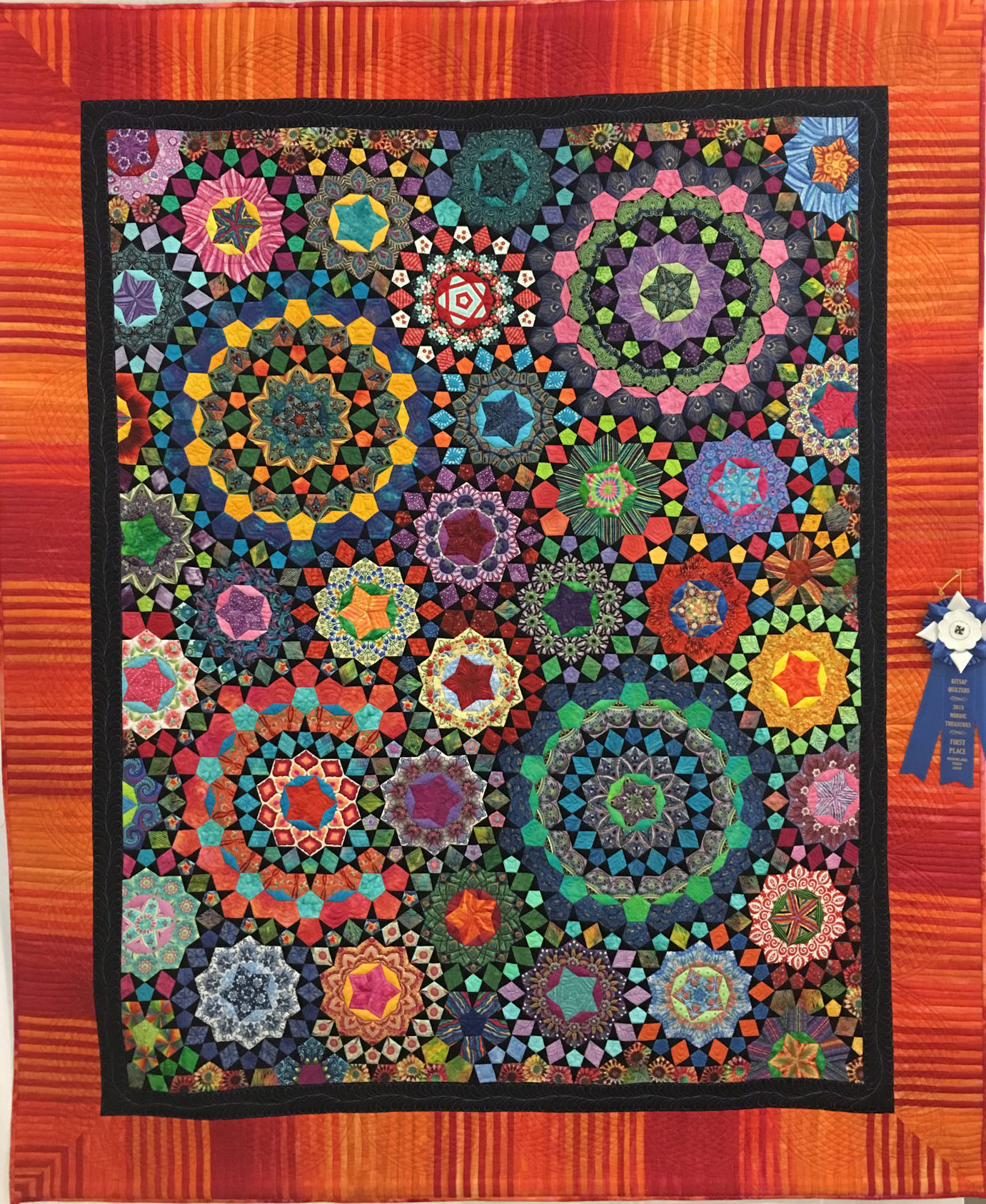 Our Mission
Kitsap Quilters was established to foster and encourage the art of quilting, both in its traditional approach and its contemporary adaptation, to bring together those who love the art form and to share the art form with the community.
Read more about who we are.
"A Passion for Color"  made by Ann Trujillo, quilted by Celeste Alexander, 1st place Med/Lg Group, 2018 Kitsap Quilt Show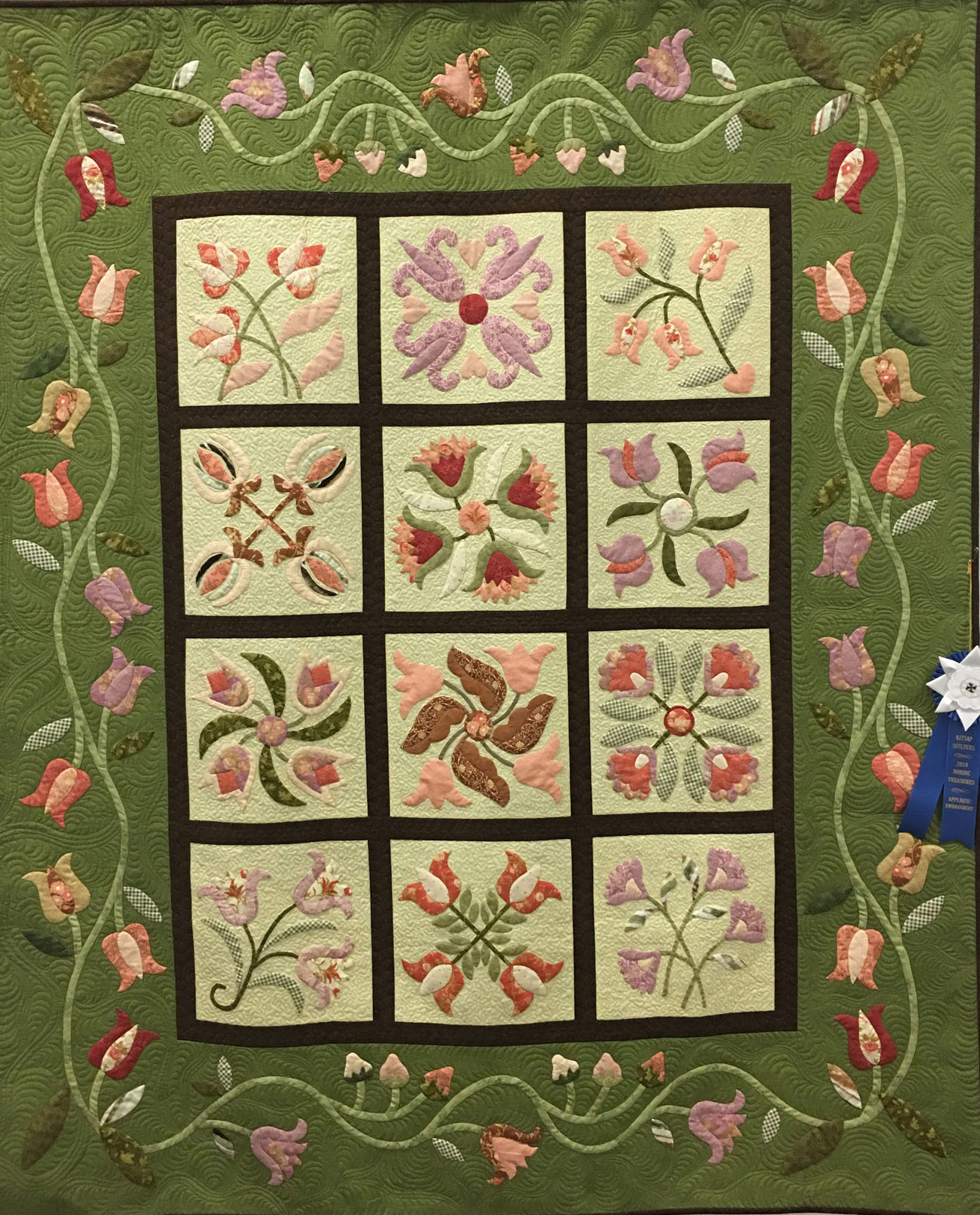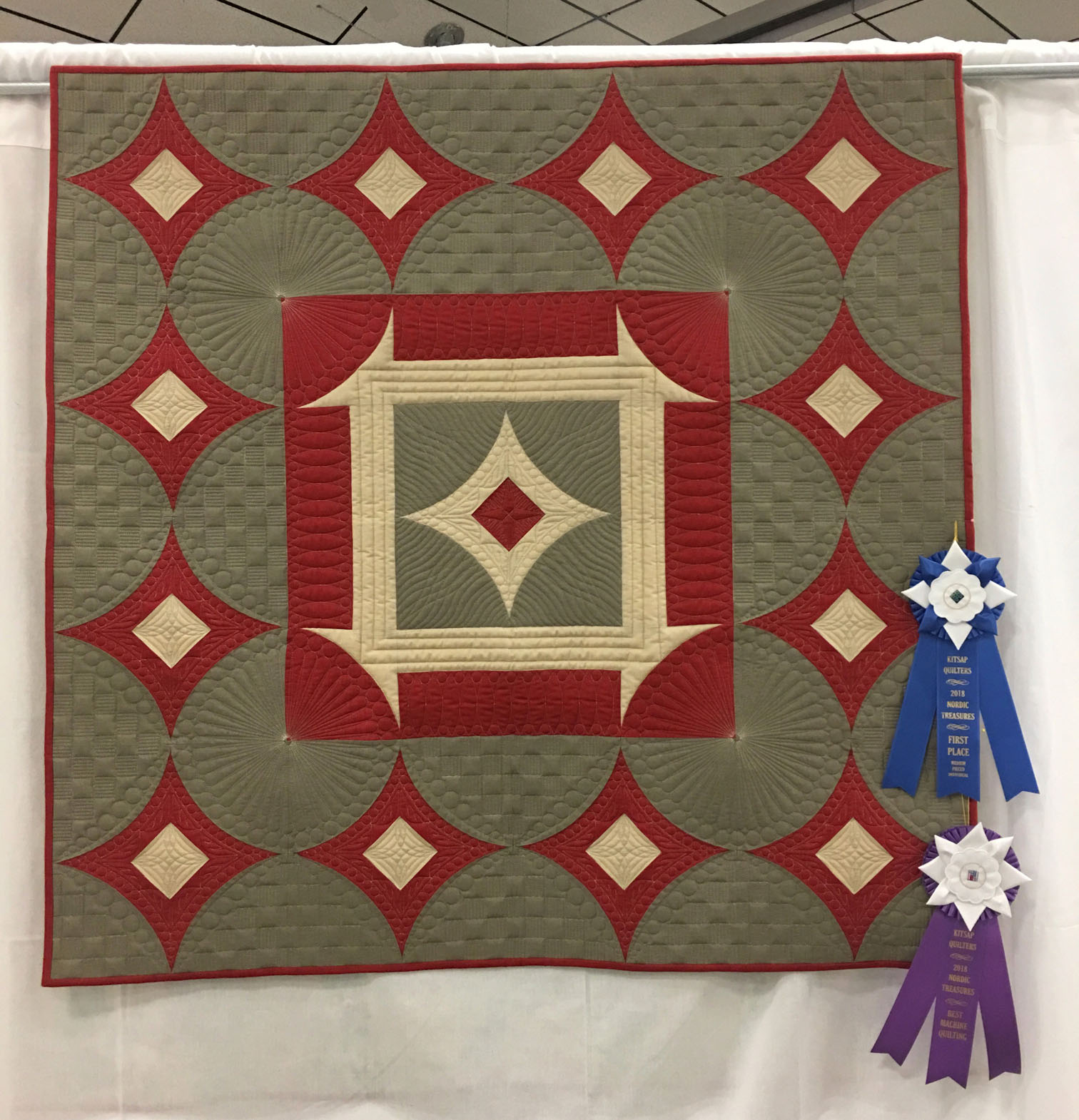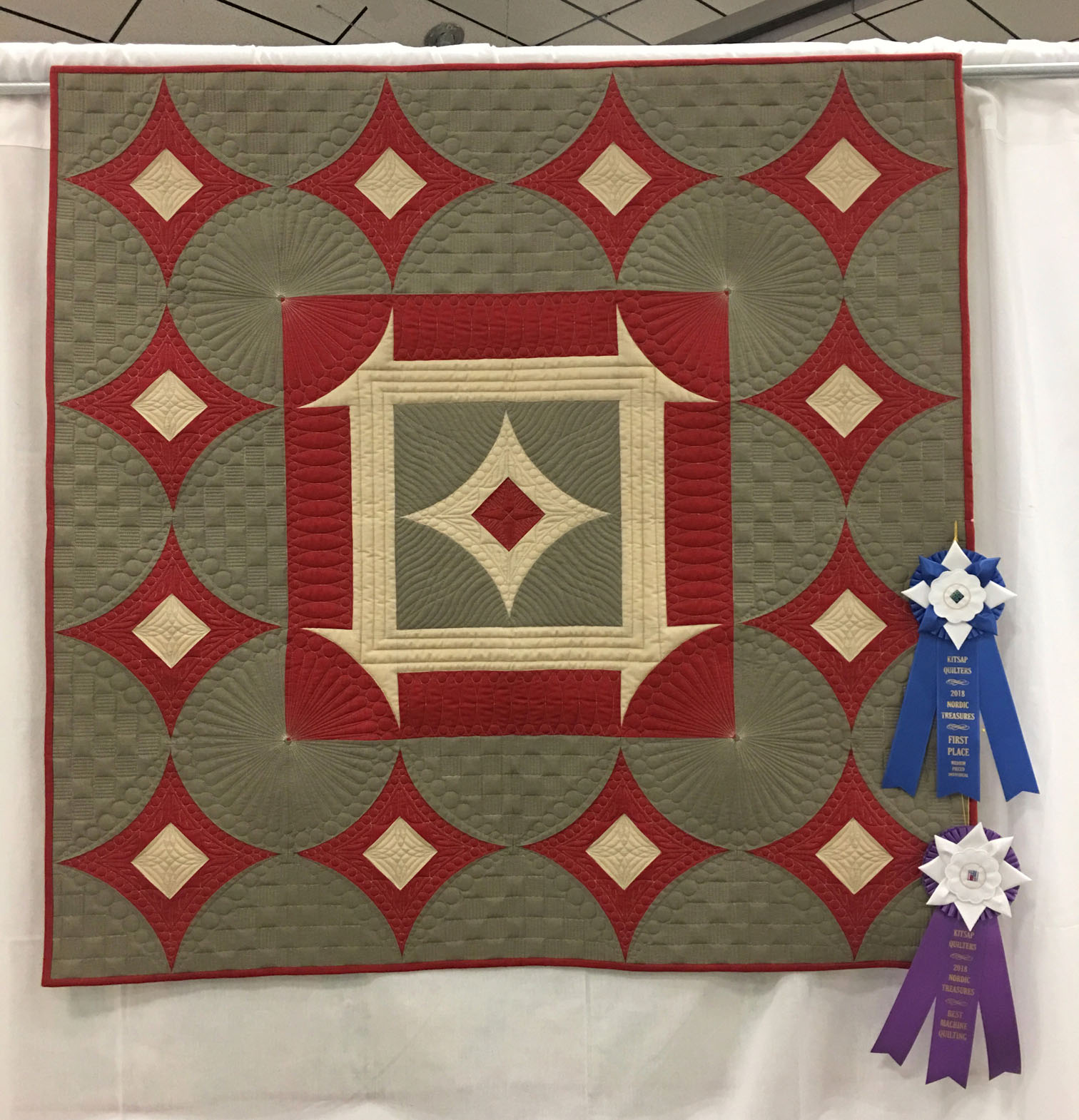 Check out our Library!
Scores of books, tools and gadgets for you to try before you buy
515 "French General the Modern Way" made and quilted by Pam Knight, 1st place Med. Individual Quilt and Best Machine Quilting, 2018 Kitsap Quilt Show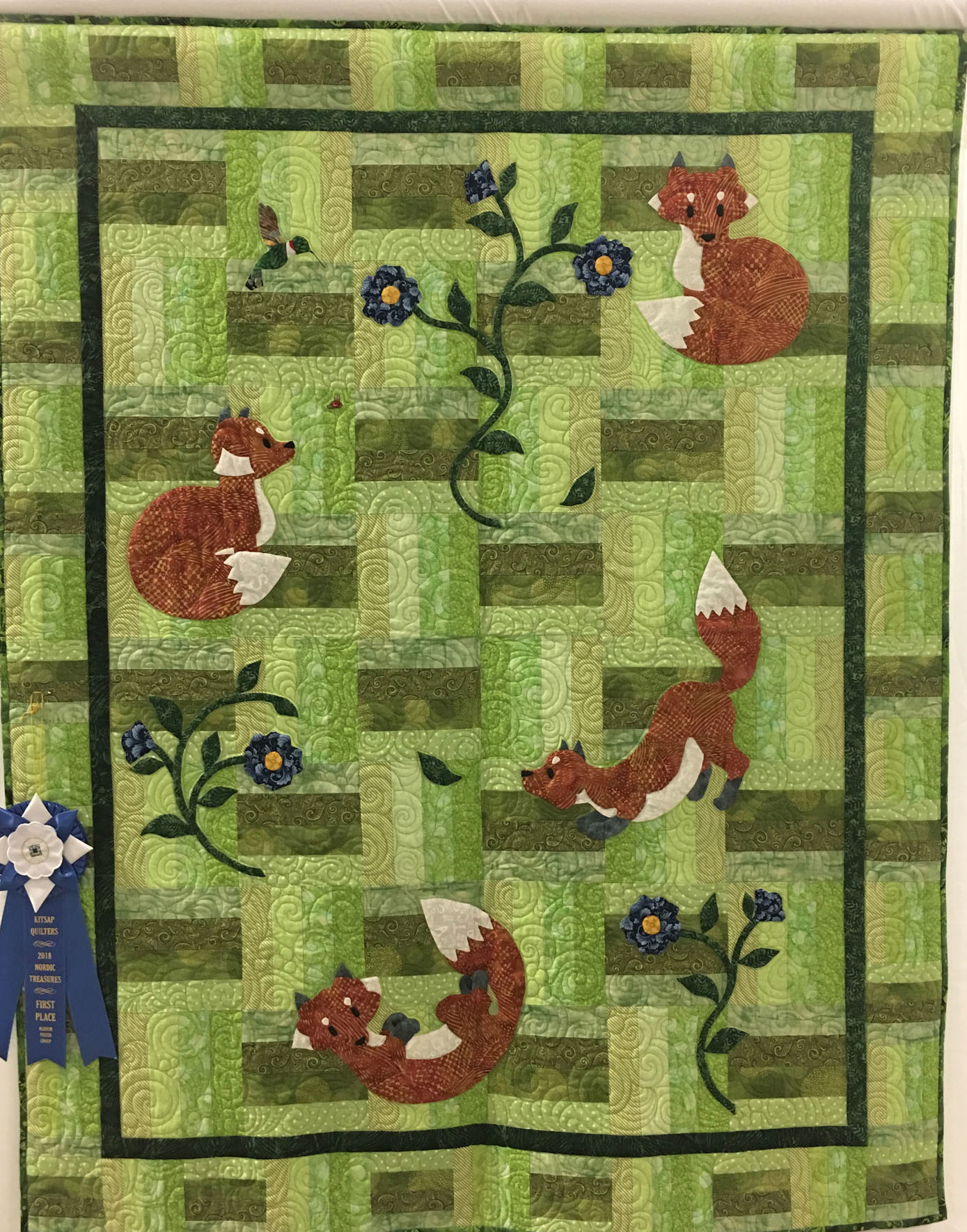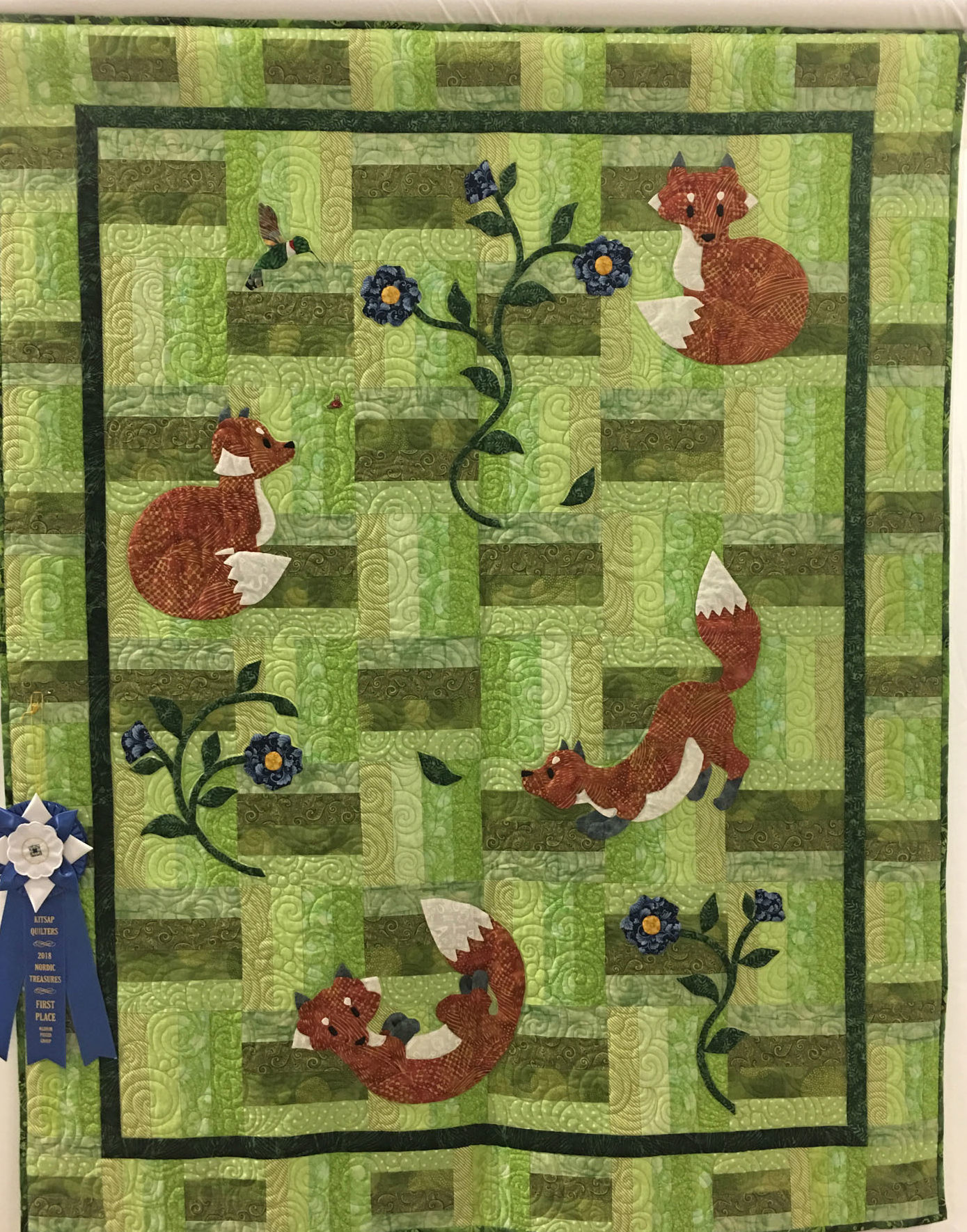 Giving Back
Providing quilts for families and children in times of difficulty and our  annual fiber arts memorial scholarship are just some of the ways we give back to the community.
614 "Quilt for Kaci" made by Sharon Broom, quilted by Rainy Day Quilts, 1st place Medium Group Quilt, 2018 Kitsap Quilt Show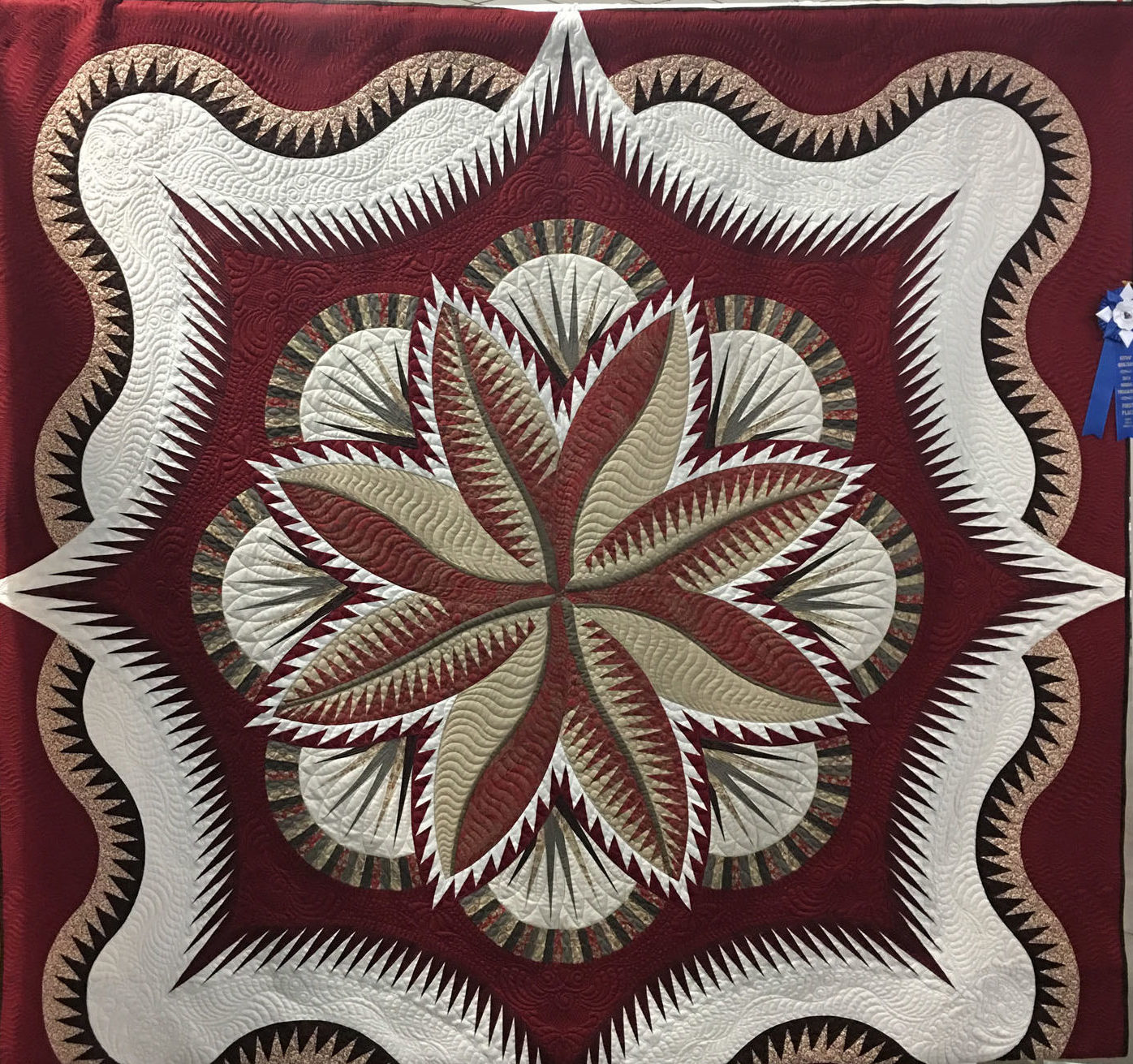 Quilt Show Winners!
"Tumble" by Pam Knight, 1st Place Winner Large Individual Quilt, 2018 Kitsap Quilt Show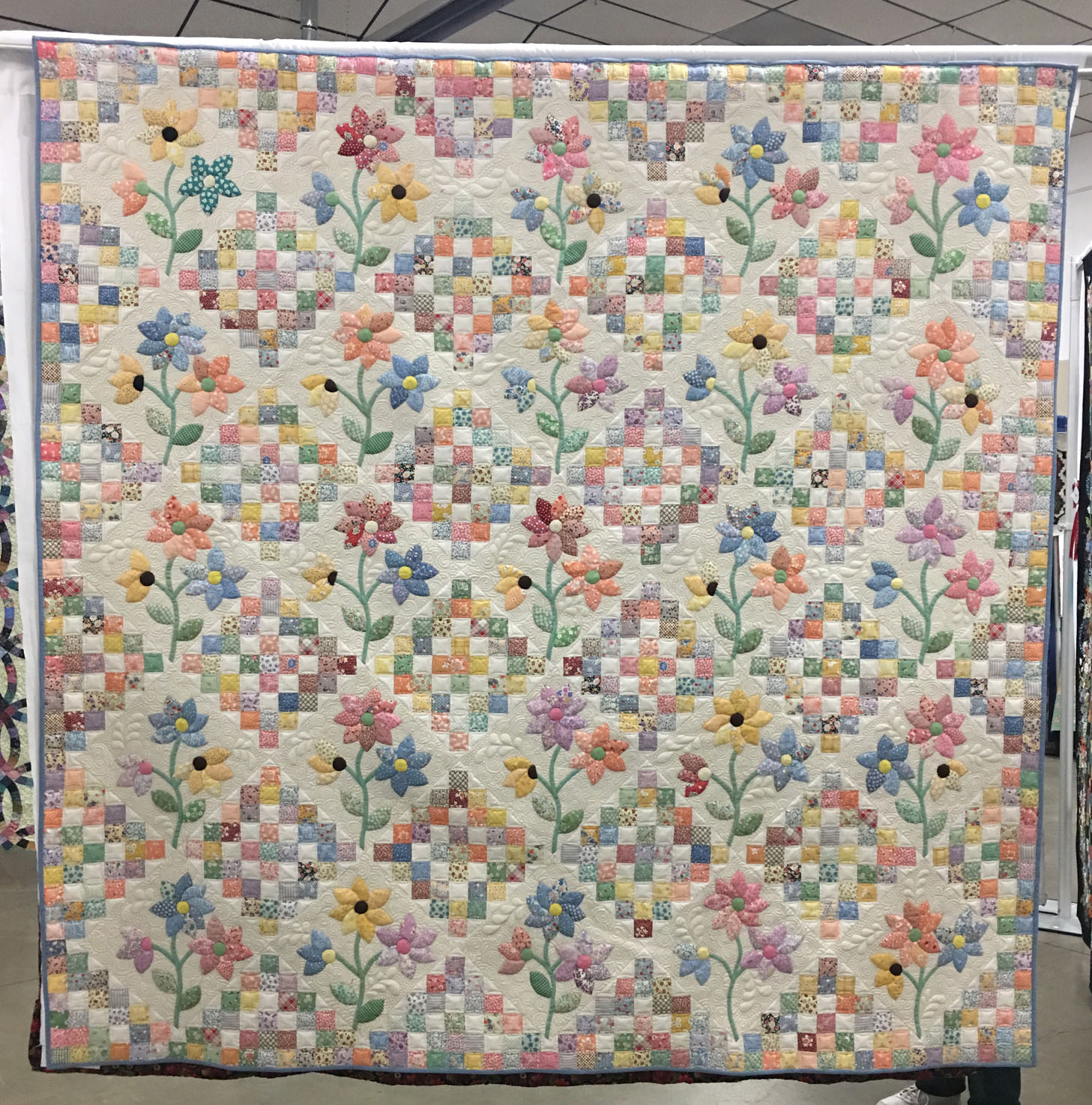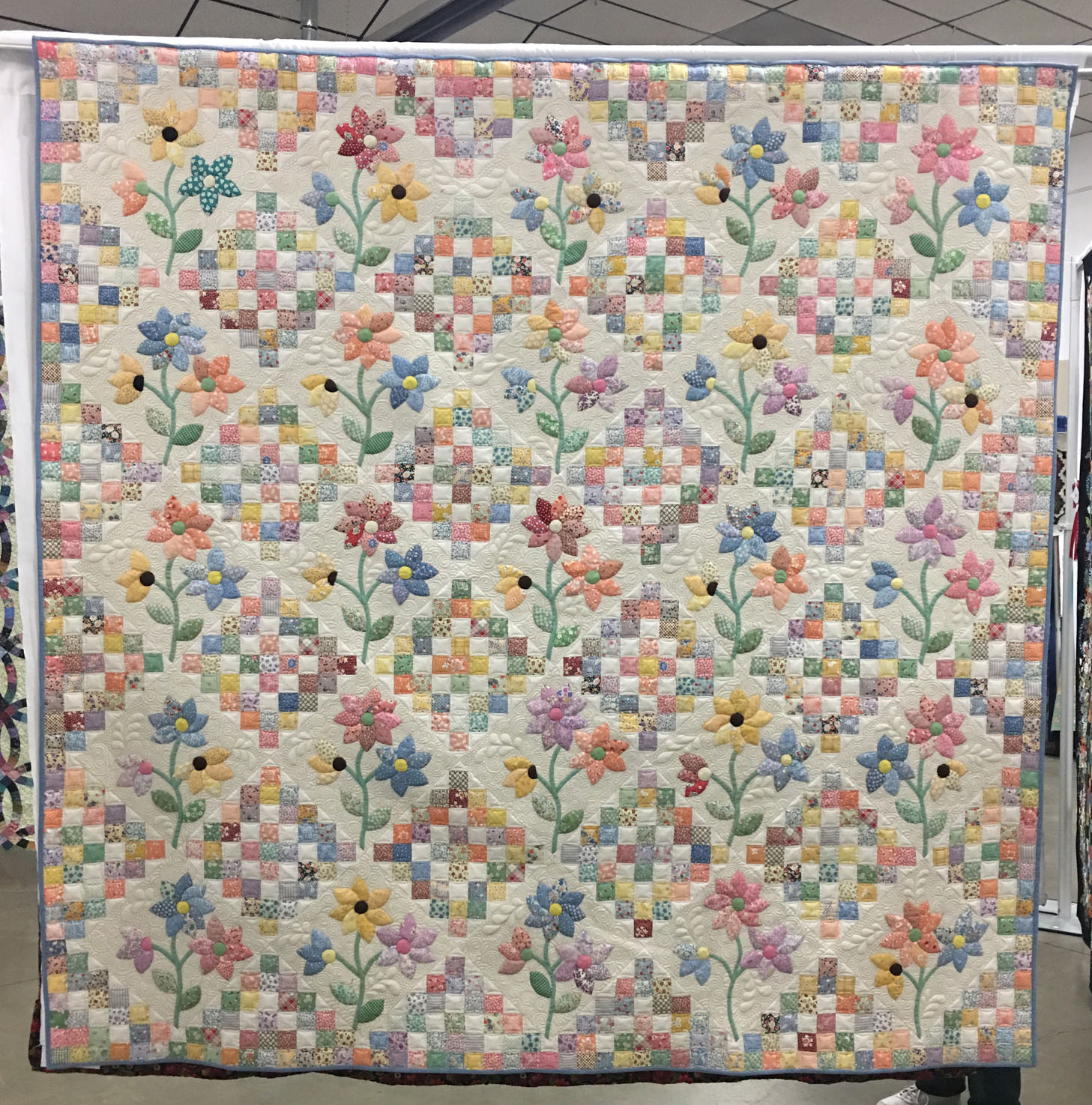 General Meetings are a great time to meet and socialize with your fellow guild members, peruse the library, sign up for classes and events, have a chance to win the fat quarter exchange, conduct guild business, and enjoy our program. Don't forget Show and Tell... a chance to show off your latest quilted items and enjoy viewing other quilts and the stories behind them.
We look forward to see you there!
814 "Oops" by Norma Tipton, quilted by Jacque Noard, Viewers' Choice Award, 2018 Kitsap Quilt Show
A Family of Quilters
Who We Are
With over 150 members, the Kitsap Quilters guild offers opportunities to learn, sew with others who are passionate about quilting, make friendships with creative people and contribute back to our community.
So Many Ways to Get Involved
What We Do
Kitsap Quilters brings in nationally known quilter-speakers and locally recognized quilt experts, offers quilt retreats, monthly workshops, group projects, organizes the display of our work at our annual Quilt Show & so much more! 
Using our Talents for Good
Giving Back
The members of our guild participate in many charity efforts including Kitsap Snuggles and Kitsap Cuddles which offer quilts to NICU babies and children in crisis.
May 19, 2022

Guild Board Meeting

May 19, 2022


May 21, 2022

Saturday Sew-In

May 21, 2022


May 23, 2022

Monday Sew-In

May 23, 2022


May 24, 2022

Guild Meeting

May 24, 2022
North Point Church, 1779 NE Hostmark St, Poulsbo, WA 98370, USA

Check the newsletter for more details.

May 28, 2022

Saturday Sew-In

May 28, 2022


May 30, 2022

Monday Sew-In

May 30, 2022


June 4, 2022

Saturday Sew-In

June 4, 2022


June 5, 2022

Newsletter deadline

June 5, 2022


June 6, 2022

Monday Sew-In

June 6, 2022